From primarily looking for cost savings among all the company's suppliers, today's buyers are now working more strategically at joining together purchasing and control. This is so as to be able to make an effective contribution to the organisation's defined key figures and goals. Today, purchasing is about proactively identifying suppliers' assets and risks, while maintaining the assessment of a competitive supplier from a cost perspective.

Being able to qualify new suppliers with the right processes and procedures, as well as having the system support to enable rational supplier follow-up, is a challenge for every purchasing organisation. But there are good tools to turn to when it comes to supplier qualification, loyalty and follow up, and the effects are good. Here are some of the reasons why it is a good idea to use a digital platform for internal control, with a specific focus on control of suppliers to the organisation's processes and procedures.
Reduce costs
Reduce costs by simplifying processes and using technology.
Greater transparency in costs.
Standardisation
Automated work flow and reporting tools.
Streamlined and standardised processes.
Greater risk saving and insights into risks based on key figures and reports.
Flexibility and efficiency
Be more efficient by avoiding manual manipulation and repetitive tasks that can instead be performed with automation.
Clear focus on specific controls of suppliers that represent a greater risk.
Better ability to take action quickly.
Quality
A consistent method used by all employees to assess and manage risks.
Focus on controls from the perspective of risk and internal control of suppliers through setting up registers, not just a general check on financial figures.
Tighter control and monitoring of special suppliers that represent a significant risk.
Qualifying a supplier
Qualifying a supplier in the right way is the first stage of controlling risk, quality and the supplier's abilities as a whole. The most common is control of key financial information together with available company information. But control needs to be better than that. Here is a good list to build from…
Reputation
Identify risks of how suppliers could potentially have a negative effect on the organisation's brand and reputation. A supplier that does not comply with the organisation's code of conduct, for example by not paying tax or social security charges, could cause a loss of brand capital.
Subcontractors
Assess the supplier's use of subcontractors. What risks are associated with using them and how is ongoing follow up of suppliers at another stage performed.
Operating competence
Assess the supplier's ability to deliver according to agreements. A late product delivery can mean financial loss and deficiencies in quality can mean safety risks.
Continuity
Evaluate the supplier's ability to deliver in the event of process faults or serious incidents, for example.
Finance
Assess the supplier's financial stability and ability to be able to continue to deliver according to agreements. Suddenly losing a supplier always involves a loss of both time and money.
Technology
Assess the suitability and function of systems and applications that the supplier uses to provide the products
Geographical risk
Assess geographical, regulatory and political risks, but also legal and financial risks in purchasing from or to another country or region.
Information security
Evaluate the supplier's control over third party data in respect of accessibility, confidentiality and integrity.
Compliance
Assess the supplier's ability to comply with laws and other regulations. Especially from a sustainability perspective.
But what happens when frameworks, processes and defined procedures are in place? How is a good procedure complied with in practice in order to assess a supplier? One of the factors we are especially keen on. Automation of objective data. With the aid of tools that are specifically designed for qualifying suppliers, the work flow can be automated, risks and uncertainties reduced and efficiency gains captured.
Here are some observations on qualifying suppliers that we have learned over the years.
It is difficult to know which signals to look for, in spite of a framework and procedures and with plenty of education and experience behind you.
Only assessing on the basis of credit rating does not cover the requirements needed to identify a supplier's assets and risks.
More sources of information are needed to be able to comply with what has been determined. Hunting down reliable information takes a great deal of time.
Open, free digital services for company information are constantly being changed and updated and create a risk of not being able to comply with the processes that have been determined.
Supplier follow up
And following up on the suppliers? It is difficult to get a complete picture of all the company's suppliers. Even suppliers with agreements. Quite simply, there is often a lack of current and relevant statistics on the purchasing that is done within the organisation. "Rogue purchasing" is a widespread problem and working on supplier and agreement follow up is a time consuming process that for many companies is still performed entirely manually.

Most companies we ask admit that they lack a clear and common plan for coordinated purchasing, where information about purchasing is not only shared within the purchasing organisation but where processes and procedures reach out to the entire company and are complied with.

Monitoring changes in the supplier register is a big problem for everyone we talk to. Having control over which new suppliers have appeared, and which have been lost, is a key figure that is important to have control over. Knowing that suppliers in the register are updated with the right information, and that they still follow the code of conduct that was secured when they started, is even more important.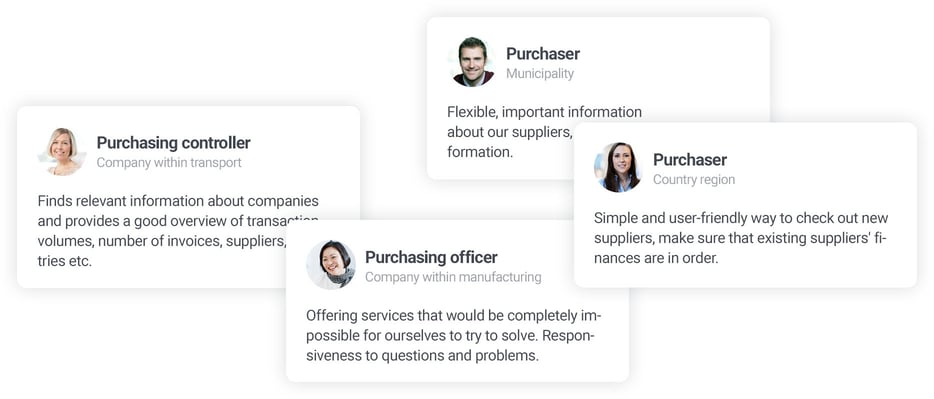 Good solutions for overcoming the problems
Inyett Search
Search for and control supplier information.

Inyett Company Control
Assessment and classification of suppliers when setting them up or for monitoring.
Critical information for customers and suppliers in areas such as Fraud, Finance, Remarks & Observations.

Inyett Payment Control
Critical notices for suppliers in areas such as Fraud, Finance, Remarks & Observations

Inyett Register Analysis
Analyses supplier registers.

Inyett Company Data
Updated company information for use when setting up suppliers.