Limitless analysis,

from transaction to payment beneficiary to industry.

Many insights and values can be identified by examining the payment data created by a business when it comes to disbursements.

The power to view and analyse payment data without limits and in its entirety, not based on how it's coded or organised, or the fact that it needs to be retrieved from a system or from every business in a group, provides an extra edge that's hard to live without.

Working on the basis of actual payment data from disbursements opens up new perspectives with lots of interesting discoveries to make.


Inyett Analyze
Three insight tips

based on your
actual payment data.
Supplier loyalty
Follow up on supplier loyalty. Start off from an industry perspective to see how many payment beneficiaries are used in each industry, which ones are used the most and which ones actually have contracts.
Small payments
10% of an organisation's transactions are below 250 SEK – small payments that mean unnecessary administration. See which suppliers are listed as recipients, or the industries in which they're most common. From there, request merging of future invoices.
Supplier risk
1% of payment beneficiaries account for more than 10% of the payment beneficiary's turnover. A risk from a dependency perspective for the supplier, or an opportunity in contract negotiations.
Insights into

payments, suppliers and industries

With the business's payment flows linked to Inyett, Inyett Analyze is able to gather and analyse all payment data, and compile invaluable information on all payments in a dynamic interface that is easy to view and understand. This makes it easy to identify efficiency gains, non-value-creating processes, risks, deficiencies and errors, which can improve the business's profitability and control.

Follow KPIs, trends and statistics based on information from each individual transaction, without limits and entirely regardless of whether several business systems or from-accounts are used within the organisation.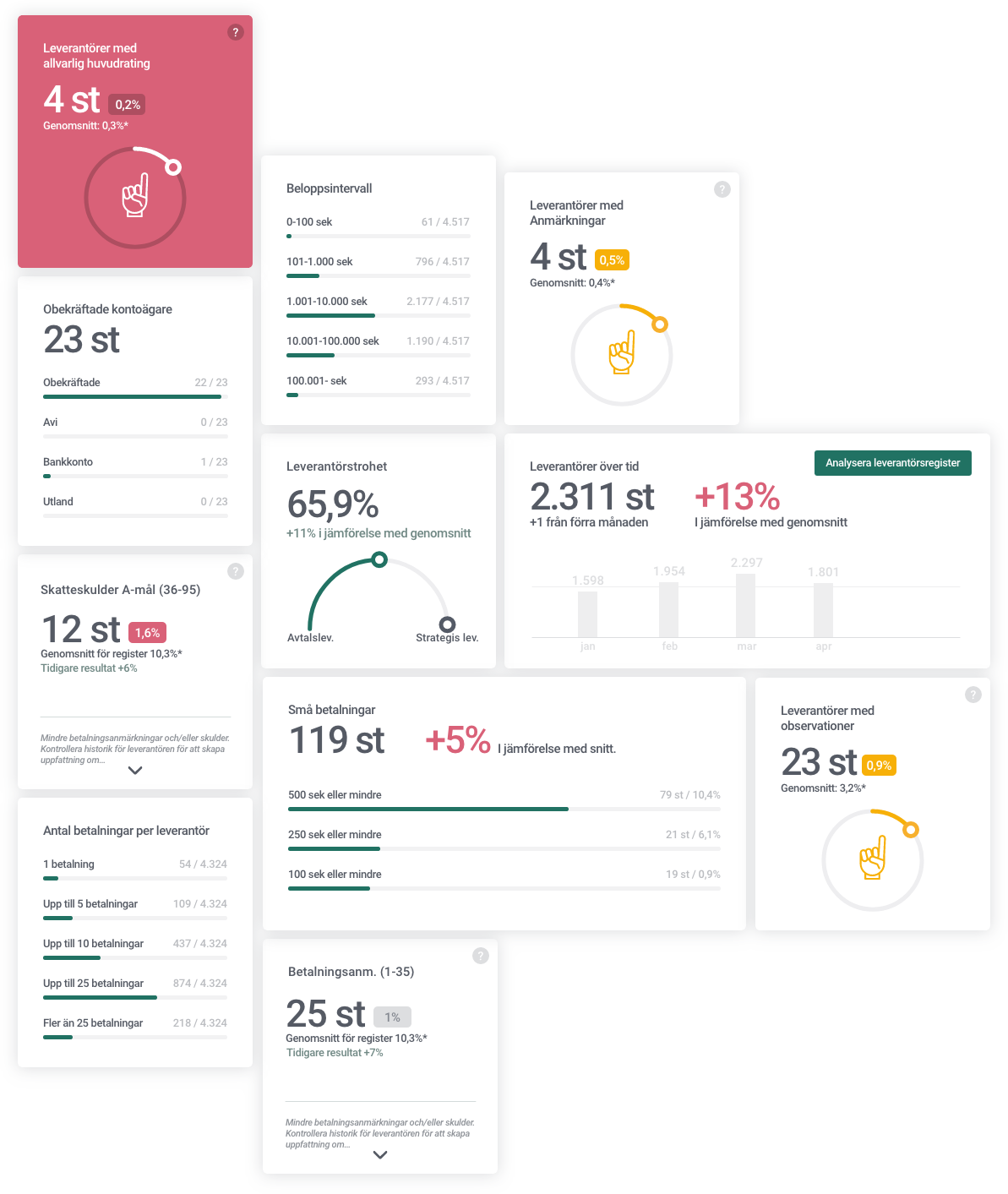 Payments
…small amounts, less than 100 SEK.
…large amounts, over a million SEK.
…the most common range of amounts.
…the number of payments per supplier.
Payment beneficiaries
…the number of new suppliers over time.
…the biggest and smallest suppliers.
…suppliers involving risks.
…supplier loyalty and contract fidelity.
…impact on the supplier's turnover.
Industries
…the number of suppliers in each industry.
…the most common industries.
…which industries have the most high-risk suppliers.
Product content
Data
Beskrivning
Tillgängligt i
Insikter på transaktioner
Nyckeltal kopplade till transaktioner
SE/NO
Transaktioner
Transaktioner
SE/NO
Små betalningar
Identifiera små betalningar (Ex. under 100:-)
SE/NO
Stora betalningar
Identifiera stora betalningar (Ex. över 1 000 000:-)
SE/NO
Insikter på betalmottagare
Nyckeltal kopplade till betalmottagare
SE/NO
Betalmottagare (Antal)
Antal betalmottagare
SE/NO
Betalmottagare (Konton)
Fördelning av mottagarkonton (BG / PG / Kontant / Utland)
SE/NO
Betalmottagare (Nya)
Antal nya betalmottagare över tid
SE/NO
Avtalsleverantörer
Antal avtalsleverantörer
SE/NO
Strategiska leverantörer
Antal strategiska leverantörer
SE/NO
Leverantörstrohet
Fördelning av betalmottagare (Avtals- / Strategiska- / Vilda leverantörer)
SE/NO
Skatteskulder
Betalmottagare med skatteskulder
SE/NO
Höga skatteskulder
Betalmottagare med höga skatteskulder
SE/NO
Kritiska bolagsstatusar
Under rekonstruktion / Konkursansökan / likvidation / Konkurs
SE/NO
Insikter på bransch
Nyckeltal kopplade till bransch
SE/NO
Antal branscher
Antal branscher förknippade med betalmottagare
SE/NO
Mest betalda branscher
Mest betalda branscher
SE/NO
Leverantörer med okänd SNI
Leverantörer med okänd SNI
SE/NO
Konto
Användande och abonnemang
SE/NO
Fritt antal användare
Fritt antal användare, 'Superusers' och 'Users'
SE/NO
Fri support
Support via chat / mail / telefon, alla arbetsdagar mellan 8-17.
SE/NO