We've looked at
100
supplier registers
We've looked at 100 supplier registers to help us understand what a typical register looks like. Where the risks and errors are, and whether there's potential for savings in terms of efficiency.

These are our findings…
6.3% of suppliers don't have a corporation tax certificate. A corporation tax certificate acknowledges that social security contributions have been paid, but it's also a hygiene factor… (with or without employees).
One in ten suppliers have records of non-payment.
1% have more serious debts to the public, suppliers that aren't wanted in the register.
1.1% of suppliers no longer exist.
One in two supplier registers contains at least one scam company, and the trend indicates that if there's one, there are usually more.
16.4% of suppliers' company registration numbers appear more than once.
13% of suppliers have a Plusgiro account that's in the process of being closed, of which 34% are already inactive.
…and almost 4% of suppliers have an inactive Bankgiro account.
Why not pick up a whitepaper on the topic? ?
Inyett Registeranalys
Check the state of registers and
supplier registers.

And update the info.

A register of customers or suppliers loses its quality as the year progresses, we know you're aware of that. Almost 31% of companies are highly likely to have data that's been modified since it was added to the register at some point in the past. Duplicates are likely to have been registered. And company names, addresses or perhaps even giro numbers have been changed. Unfortunately, it's also likely to include the occasional newly registered scam company that's registered itself in the system and is free to trade.

Inyett Register Analysis controls customer and supplier registers in order to correct inaccurate and incomplete company information. This allows for efficiency and cost savings, as time-consuming information is removed from the correction of errors and mistakes manually, and subsequently. It also flags up irregularities and risks, which often have serious consequences for the company and the people in it.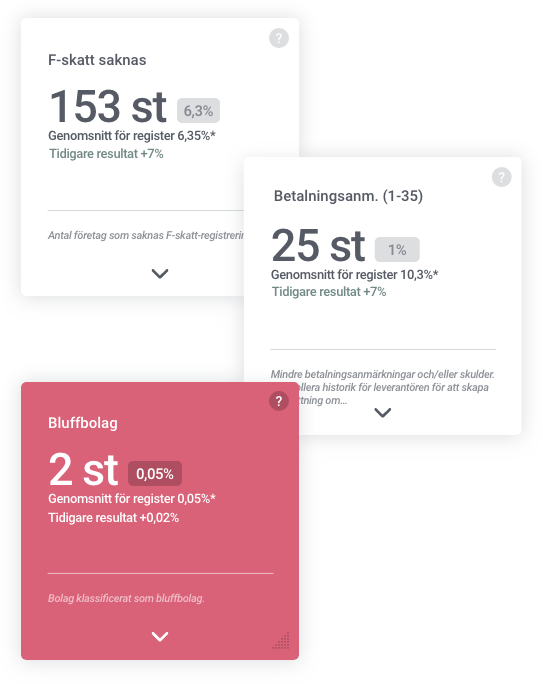 A few
good


examples
See which suppliers use Bankgiro/Plusgiro or bank accounts.
See which suppliers are linked to inactive accounts.
See which suppliers are duplicated, and remove the ones that aren't needed.
See which suppliers are at risk of bankruptcy and liquidation.
See which suppliers don't have corporation tax certificates.
Product content
Inyett Registeranalys
Beskrivning
Tillgängligt i
Företagsinformation
Korrekt företagsinformation för att uppdatera register
SE/NO
Företagsnamn
T.ex. Inyett AB
SE
Adress
T.ex. Drottninggatan 20-22
SE/NO
C/O Adress
T.ex. c/o Visma Financial Solutions AB
SE/NO
Postnummer
T.ex. 252 21
SE/NO
Stad/ort
T.ex. Helsingborg
SE/NO
Hemsida
T.ex. www.inyett.se
SE/NO
Registreringsdatum
T.ex. 2009-04-06
SE/NO
Telefonnummer
T.ex. 042 – 210007
SE/NO
Momsregistreringsnr.
T.ex. SE556780434801.
SE/NO
Bolagsstatus
T.ex. Aktiv / Inaktiv
SE/NO
Besöksadress
T.ex. Drottninggatan 20-22
SE/NO
Aktiva Bankgiro/Plusgiro
Kommer snart
SE
Företagskontroll
Uppmärksammar anmärkningar på företag i register
SE/NO
F-skatt
Kontroll av F-skatt (Ja/Nej)
SE
SNI
Kontroll av uppgett SNI med förklaring (Ja/Nej)
SE
MVA
Kontroll av MVA (Ja/Nej)
NO
Føretaksregisteret
Kontroll om registrering i företagsregistret (Ja/Nej)
NO
NACE
Kontroll av NACE (Ja/Nej)
NO
Enhetsregistret
Kontroll mot Enhetsregistret (Ja/Nej)
NO
Inyett Company Control
Kvalificering av företaget utifrån affärskritiska faktorer
SE/NO
Inyett Main Rating
Inyetts huvudrating för företag (Grön / Gul / Rött)
SE/NO
Bedrägeri
Rating baserad på koppling till bluff- & sanktionslistor (Grön / Gul / Röd)
SE/NO
Ekonomi
Rating baserad på finansiella nyckeltal (Grön / Gul / Rött)
SE/NO
Observationer
Rating baserad på noterbara observationer (Grön / Gul / Rött)
SE/NO
Anmärkningar
Rating baserad på viktiga anmärkningar (Grön / Gul / Rött)
SE/NO
Skuldrating
Betalningsanmärkningar och/eller skulder (Grön / Gul / Rött)
SE/NO
Matchning
Matchning av data mot mottaget register
SE/NO
Företagsnamn
Kontroll av företagsnamn mot Inyett (Match)
SE/NO
Dubblett org.nr.
Kontroll om flera organisationsnummer förekommer
SE/NO
Dubblett kontonummer
Kontroll om kontonummer förekommer flera gånger
SE/NO
Sanktionslistor
Kontroll om företagsnamn förekommer i sanktionslistor (Match score]
SE/NO
Koppling BG/PG mot org.nr.
Kontroll av BG/PG mot org.nr.
SE
Leverans
Vad som ingår
SE/NO
Data
Leverans av data från analys i önskat format.
SE/NO
Rapport
Rapport i pdf-format
SE/NO
Genomgång
Genomgång av resultat via digitalt möte
SE/NO