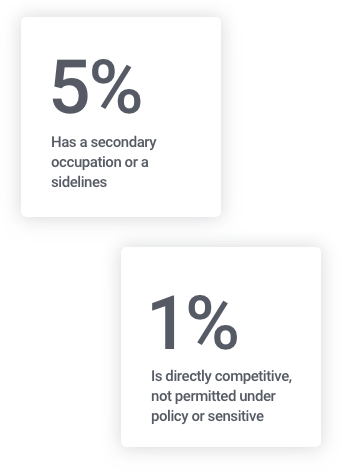 Follow up on
secondary occupations

and sidelines within the organisation

It's not uncommon for employees to work for companies or organisations other than their main employer. This could involve secondary occupations such as being a deputy in their children's sports club, chairman of their tenant-owners' association or a director of a family member's company. Around 10% of all staff in an organisation have some type of job that the employer is unlikely to know about.

Working on a secondary occupation won't necessarily affect the relationship with the employer, but there are serious situations where an employee's secondary occupation could directly harm the business. For instance, employees may knowingly run a competing sideline, or a colleague may use their position to influence decisions that then go on to benefit the employee financially.
Inyett Trust Analysis
Get an overall picture of
secondary occupations
Inyett Trust Analysis gives you an overall picture of secondary occupations and sidelines within the organisation. This analysis identifies employees with an active or historic secondary occupation, the type of occupation and the organisation in which it occurs or has occurred. The analysis also shows whether payments have been made from the employer to the associated companies.
That's why it's a good thing!
Identify staff who run competing businesses.
Minimise the risk of internal fraud.
Avoid conflicts of interest.
Prevent negative impact on the job role.
Secondary occupations that should be
investigated

further…

There's a general perception that it's perfectly okay to get involved in a secondary occupation – which it is. In most cases. But there are a number of risks associated with staff who get involved in secondary occupations.

A secondary occupation is considered high-risk when…
… it adversely affects the employee's work.
… it affects the working relationship or trust between employer and employee
… it competes directly with the employee's main job
… the employee sits on the boards of companies that are customers or suppliers
… the employee has work to do that takes time and energy.
Do I have the
right to check

employees' secondary occupations?

The vast majority of organisations and businesses, both private and public, have some kind of policy on which secondary occupations are allowed and which ones aren't. Businesses often have policies on secondary occupations, so it may be considered relevant – and in line with good labour market practice – to monitor the policy and make sure it's applied correctly. Employees are usually obliged to provide information about their secondary occupations when an employer requests the information.

It's always important to bear the employee's privacy in mind when dealing with this type of issue, so we recommend contacting your legal representative if you're in any way unsure.
Here are three good texts on the subject…
» Bisyssla offentlig sektor (Arbetsgivarverket)
» Den anställdes lojalitetsplikt (Akademikerförbundet SSR)
» Bisyssla vid olika anställningar (Civilekonomerna)
How Inyett

processes

data

The data is sent from the client to us in a secure, locked environment, where the files are stored in a secure SFTP location. We then analyse the data and compile the information before then storing it again in a secure SFTP environment. The client retrieves the data from there, and the data is deleted from our systems after 3 days when we're sure the client has received information from our analysis.

Inyett works hard to make sure customers feel safe and secure with how we process their data.

We took the following steps…
We have Proof of Publication, which means that our database is protected by the Freedom of Speech Act.
We have a Data Protection Officer (DPO) who actively works on our data protection issues, such as ensuring our compliance with the GDPR.
We have a credit check permit.
We hold ISO accreditation to ISO14001 and ISO9001, but we're actively working to align our processes with the requirements of ISO27001.
Product content
Data
Beskrivning
Tillgängligt i
Information om person
Information om person förknippad med analyserad personuppgift
SE
Namn
För- och efternamn
SE
Personnummer
Personnummer
SE
Aktuella styrelseengagemang
T.ex ledamot, ordförande eller motsvarande
SE
Historiska styrelseengagemang
T.ex ledamot, ordförande eller motsvarande
SE
Position eller titel
Verklig huvudman
SE
Information om företag
Företagsinformation förknippat med analyserad personuppgift
SE
Organisationsnummer
Förknippat organisationsnummer
SE
Bolagstyp
Förknippat bolagstyp
SE
Bolagets status
Förknippat bolagsstatus
SE
Senaste transaktion
Senast genomförd betalning till förknippad betalmottagare
SE
Leverans
Vad som ingår
SE
Data
Leverans av data från analys i önskat format
SE
Rapport
Rapport i pdf-format
SE
Genomgång
Genomgång av resultat via digitalt möte
SE