User Story
AutoDetect halts incorrect
transactions directly in the
ERP
before payment.
With Visma AutoPay, deposits and disbursements are made directly to the bank via ERP. This service eliminates the manual steps that are usually involved in disbursements, such as creating payment files and retrieving feedback files. In addition, to ensure that disbursements are safe and secure, every transaction is checked via the Inyett platform so as to be sure every payment is completed with no risk of errors, mistakes or rogue traders.
The best thing about gaining control of payments in Visma AutoPay…
Make the right payments
All payments are checked. Errors, risks and potential mistakes are rectified. Approved payments are sent to the bank.
Does not eliminate value-adding processes
Save time. Avoid the processes created when an incorrect payment happens – from contacting the supplier to pursuing a refund.
Ready-to-use
The service is up and running at the touch of a button. (No consultants, projects, installation or integration.)
Identifying fraud in time
Make sure money doesn't end up going to the wrong recipient. Avoid threats, disputes and unnecessary legal fees.
A more secure P2P process
Early checks when inputting invoices or on certification are useful, but on average it takes almost 30 days from receipt of invoice to payment. Time when changes occur and risks are created.
Great value!
For everyone!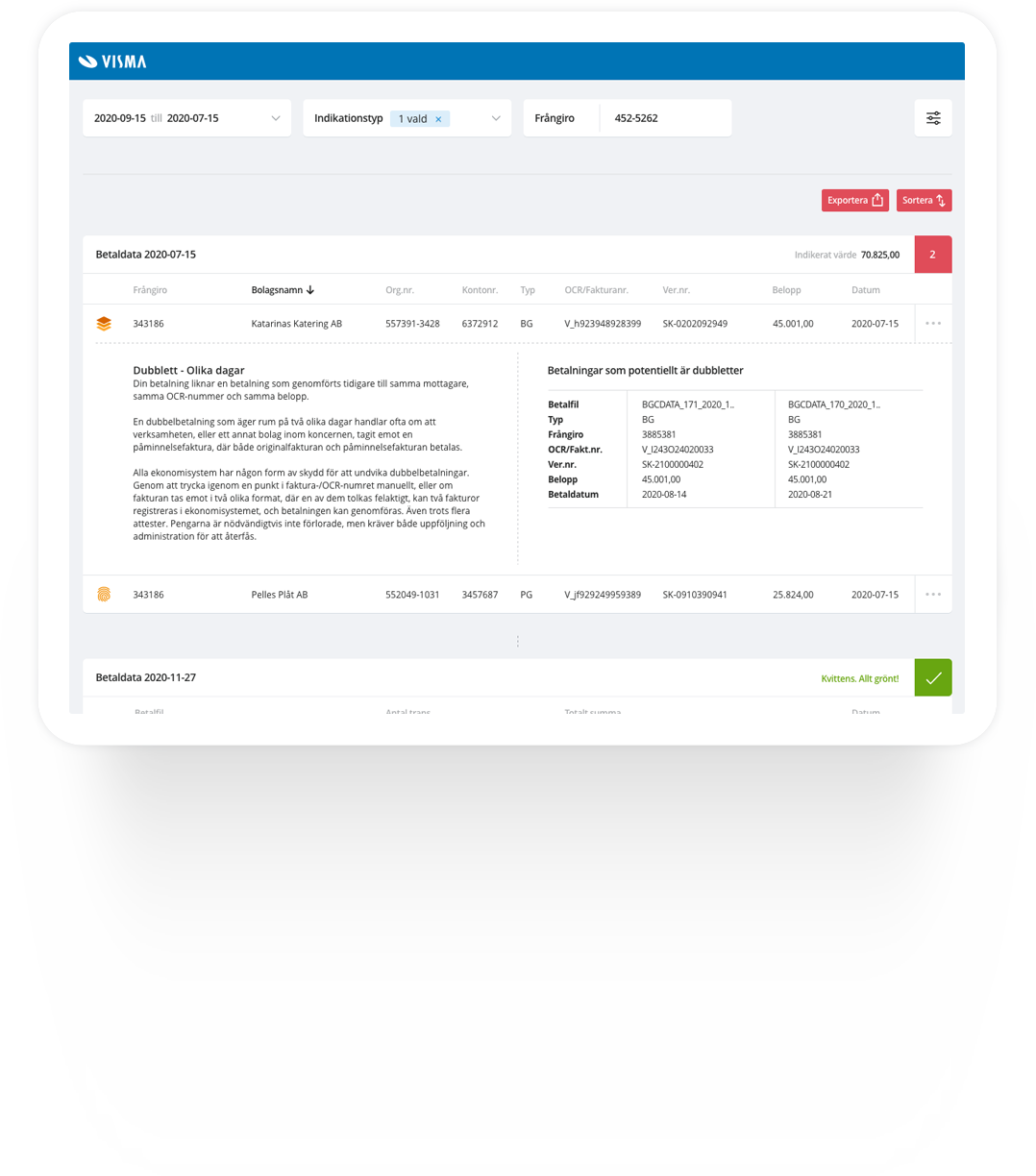 AutoDetect is activated directly in Visma AutoPay.
AutoDetect checks payments created in Visma AutoPay.
Check indications from AutoDetect, remedy risks or approve payments in AutoPay.
Approved payments are sent to the bank. Security and control are in place!
Visma AutoPay
Visma's ERP customers should
feel safe when

when they make payments

All Visma's customers and users should feel secure when making payments in any of Visma's ERP systems. Autopay is Visma ERP's link to the bank, where all payments pass. Here we want to create security and control for everyone who uses AutoPay, by having the best transaction control available on the market.

By connecting Inyett's platform to AutoPay, deviations, errors and mistakes for payments are captured, before they are approved and paid.

The connection to Inyett's platform, technology and knowledge in risks and internal control for payments, provides an added value in AutoPay that other players do not have.

Ole Christian Tangen
Managing Director
Visma AutoPay AS